It is fair to say that things have dramatically changed over the past 5 months. Who would have thought that working remotely would be so dominant so quickly? It is a testament to how fast things can be implemented when there is an urgent need.
Reflecting on this new mode of working I have gathered learnings from Project Managers across multiple project types and environments to synthesise some patterns for enhanced project success. Thankyou in advance to those who contributed to this work.
1. Clarity – This is always the goal of the project manager and sponsor to bring more and more clarity to the project. With remote working it is more critical to be more precise with requirements and re-address them formally over time. Clarity means closure. When working in a war room environment you can afford to be a little imprecise because things can be picked up very quickly and course corrected. You do not have that luxury when working remotely.
To achieve clarity you must hone your questioning and review techniques. To help, read '6 tests when reviewing board project reports.' Although this article was written for board members it equally applies to all roles in a project.
2. Commitment – Gaining commitment is standard project management fare. The best projects actively discuss and agree team rules to reflect commitment. When working remotely a few things may require more emphasis in the team rules. The critical ones relate to trust building, psychological safety and transparency. A new one to add suggested by @RajeevDewan is re-committing energy level to every meeting (be present and engaged).
Testing and verifying active management of the team rules becomes more important in remote working arrangements.
3. Coordination – This is always important. However, what you have lost is the level of informal and opportunistic coordination. You will need to rely more on formal meetings which are time-consuming. This presents an efficiency and effectiveness problem to overcome. The work that the team needs to do is to improve the meeting performance. To help here a summary of how to make your meetings more effective.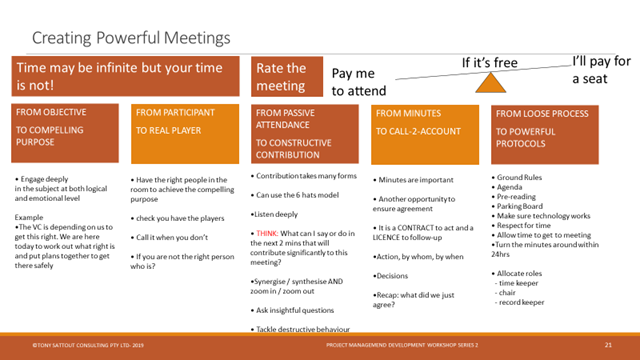 4. Communication – Where are all the people? They are there in a different way. Out of sight, out of mind is your first challenge. The second challenge is project budget cuts in communication and change. To overcome these particular challenges, you need to exploit the constraints by creating self-service learning and feedback channels. Look to social media systems to enable contribution, shared learning and communication at very low cost. This has the added benefit of shifting change accountability to the user with the project being responsible for creating the environment and monitoring content for accuracy.
For this to work you need to trust the intent of participants. If you have done the commitment part well the risk is low.
5. Completion – Completion means completion of task and commitments, not just the completion of the project. Because the cost of each cycle of review and course correction for gaps is much higher in the Covid world you need to ensure each participant is more accountable for completion (with quality). This needs to form part of the 'commitment' phase and reinforced throughout the project. To be clear this does not mean act individually or unilaterally. It means owning your output.
I hope you find this a good starting list. Please contribute your comments. We all need to learn in this new world.